Traditional braces can help to correct a variety of dental concerns including misalignment and overcrowding.
Dental Braces Can Improve the Aesthetics and Health of Your Smile
Even with the advent of Invisalign®, traditional dental braces are still the most common cosmetic dentistry treatment used to correct misaligned teeth and an improper bite. Braces not only help to improve the appearance of your smile, but can also help to ensure the longevity of your oral health. At Crawford Leishman Dental in Orem, UT, our dentists have over 20 years of experience in traditional orthodontics and stay up to date with the latest dental techniques and technology through continuing education courses. Dr. Chris Crawford and Dr. Rick Leishman are committed to providing each patient with high quality, personalized care in their journey to a beautiful, healthy smile.
How Do Traditional Dental Braces Work?
Metal braces are generally made of titanium or high quality stainless steel and consist of small brackets, arch wires, and ligature elastics. They are designed to apply gradual pressure to teeth, helping to realign your smile. Each bracket is affixed to the front of the tooth with a strong adhesive that can withstand biting and chewing. The brackets are then connected by flexible arch wires and held in place by elastic ligatures, sometimes referred to as "rubber bands."
Over a period of time, your dentist will tighten the arch wires to gently guide teeth into proper alignment. In most cases, patients will wear dental braces for 18 months to three years.
Conditions Traditional Orthodontics Can Correct
Traditional metal braces can treat a variety of dental conditions and jaw complications, such as:
Crowded teeth
Crooked teeth
Crossbites
Overbites
Underbites
Temporomandibular joint disorder (TMJ)
Gapped teeth
Overlapping teeth
During your consultation, our team will evaluate your oral health and the structure of your smile. Your dentist may request digital images and x-rays to help him determine the best course of action. Before braces are placed, he will first address any tooth decay and gum disease with tooth-colored fillings and periodontal treatment. He may also take impressions of your teeth, which can be used to create your personalized treatment plan.
The Importance of Having a Straight Smile
Achieving a straight smile provides many aesthetic benefits and can improve your self-confidence. However, it can also help protect the health and longevity of your natural teeth. Even if you follow a regimented oral healthcare program, misaligned teeth are harder to clean, placing you at greater risk of developing tooth decay, cavities, and gum disease. In addition, an improper bite can also lead to teeth grinding and jaw clenching (bruxism), TMJ, neck and shoulder pain, and costly restorative treatments.
Even if you follow a regimented oral healthcare program, misaligned teeth are harder to clean, placing you at greater risk of developing tooth decay, cavities, and gum disease.
Traditional metal braces are highly recommended for children and adolescents between the ages of six and 14. However, this cosmetic procedure is just as beneficial for adult patients looking to improve the appearance of their smile.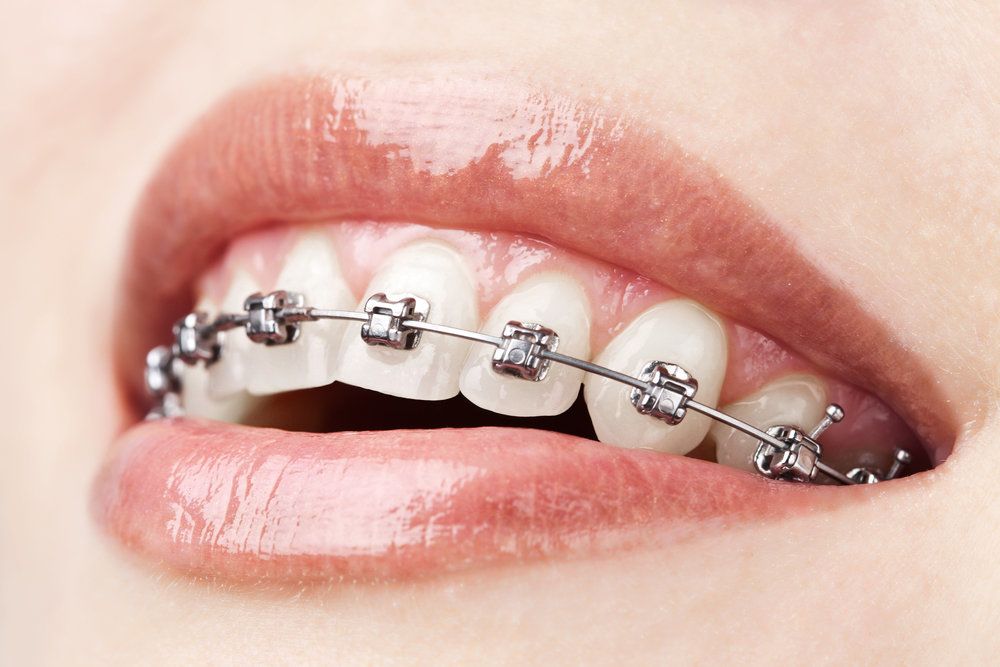 Benefits of Traditional Orthodontics
Straightening your teeth with dental braces can significantly improve the aesthetics of your smile, but it can also protect your long-term oral health. This orthodontic treatment can help to:
Prevent tooth decay and gum disease
Prevent TMJ disorder and other jaw complications
Boost your self-confidence
Improve your comfort while eating and speaking
Our team would be happy to answer any questions or concerns you have about dental braces. With over two decades of experience, we can ensure that you receive the highest quality dental care throughout your cosmetic treatment.
Achieve a Straighter Smile
If you are ready to achieve a straighter smile and prolong your oral health, our experienced team can help. Contact our office online or by calling (801) 225-5888 to schedule your consultation with Dr. Crawford or Dr. Leishman.
Contact a Cosmetic Dentist in Utah