If you have always considered dental fillings only as a way to cover cavities, you will be surprised by the advantages these additions can bring to your oral health. Dental fillings are often used as a solution to repair the damage caused by bacteria in a tooth. However, they can help strengthen the teeth's structure and improve its functioning. Here is everything you need to know about this dental treatment!
Benefits of Dental Fillings
They Are a Long-Lasting Solution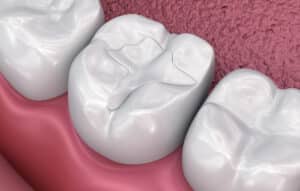 Even if it might seem intimidating to undergo such a dental procedure to fill the cavity caused by bacteria, these will last for over 15 years. Undoubtedly, a certain level of care and maintenance is required to ensure proper tooth health. However, when cared for in the best way, fillings can help you enjoy strong and healthy teeth for years to come!
Can Promote Tooth Functionality
By repairing the part of the toot's structure affected by the decay, fillings will also improve the teeth's functioning. Indeed, they might reduce pain and discomfort and give you the chance to enjoy meals and social situations without a worry!
They Can Prevent Infection
If you are going to undergo another dental procedure such as a root canal, you and your dentist might decide to use a temporary filling to protect the exposed or damaged tooth. Indeed, if nerves are exposed, or the enamel has been damaged, it is possible to start suffering from infections. Fillings help you prevent them until everything is back to normal!
They Can Look Like Your Natural Teeth
Dental fillings and the procedure to fit them have come a long way over the past years. What used to be a very noticeable, grey/black filling, today is an enamel-like color that perfectly blends with your natural teeth.
They Can Strengthen Your Tooth
If cavities or cracks have damaged your tooth, fillings can regain your teeth' strength. Indeed, these additions can restore the internal and external structure of the teeth, ensuring its wellbeing.
The Process of Getting a Dental Filling
If your dentist has recommended you to proceed by getting fillings, you can expect to receive a mild dose of local anesthetic. Then, your dentist will clean the decayed area using a drill. 
This step helps ensure that the bacteria that have been causing the tooth's damage is not inside it anymore. While this step can help your dentist stop the decay from damaging the tooth any further, it won't repair the tooth – that's where the fillings come in. 
Fillings are a solution that your dentist creates out of composite resin. Then, through an injection, the solution is placed to fill the cavity and repair the tooth.
Once shaped and fixed, you will be able to enjoy a healthy and strong tooth again!
Get in Touch With Crawford Leishman Dental
If you are looking to benefit from the advantages offered by dental fillings in Vineyard Utah, get in touch with Crawford Leishman Dental. Our team in Orem, Utah, will be able to answer all of your questions and concerns about this practice!