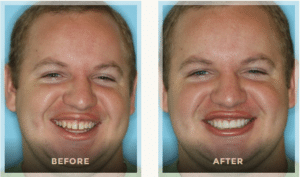 Regain your confident smile by concealing minor imperfections with dental bonding.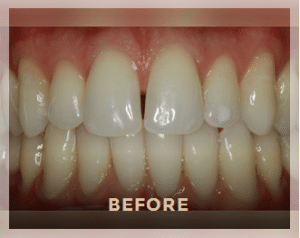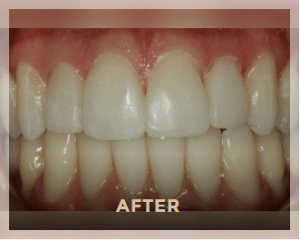 Cosmetic dentistry in Vineyard, Utah can help you achieve a stunning smile at a location close to home. Dental imperfections such as discoloration, misalignment, and chips or cracks may cause you to hide your smile. A beautiful smile that is bright, aligned, and free from flaws can dramatically improve your self-confidence.
Self-consciousness about your teeth can prevent your true personality from shining through, affecting first impressions, business opportunities, and how comfortable you feel around others. Fortunately, through advanced cosmetic dentistry techniques, the skilled doctors at Crawford Leishman Dental in Vineyard, UT, can help you achieve a stunning smile that will not only light up a room, but that you can be proud of.
Results Tailored to Meet Your Aesthetic Goals
Advances in the dental field have improved cosmetic dentistry drastically over the last two decades. With the use of advanced technology and ground-breaking techniques, we are able to help correct a wide range of imperfections such as chips, cracks, a "gummy smile," receding gumlines, stains and discoloration, and teeth that have been affected by cavities and decay. During a consultation, we will discuss your questions, concerns, and goals, to help you decide which treatment is right for you.
If you need more extensive work, we can put together a customized plan that entails multiple treatments – a smile makeover – to help you achieve your desired look.
Cosmetic Treatment Options
Our skilled dentists, Dr. Crawford and Dr. Leishman, have perfected numerous cosmetic dental therapies. Whether you are in need of a minor touch-up to conceal a chip, or have more severe staining, decay, and cracks, we can help you. Some of our various treatments include:
Porcelain Veneers
Porcelain veneers are bonded directly to the front of the teeth to conceal a range of imperfections, including minor gaps, chips, cracks, and discoloration. Once the veneers have been crafted at our local lab to match your teeth, the veneers will be applied through a minimal or traditional preparation procedure.
Teeth Whitening
Years of consuming coffee, juice, wine, and other dark foods and beverages can cause tooth discoloration. At Crawford Leishman Dental, we use a state-of-the-art treatment called Zoom!® that can eliminate even the most stubborn stains and dramatically brighten your smile in just one hour-long office visit.
Invisalign®
Using the Invisalign® method, crooked, crowded, and misaligned teeth can be treated with a customized set of aligners that gradually move your teeth into the proper position. The aligners – clear, removable trays – are a comfortable and discreet alternative to traditional metal braces.
Dental Bonding
Minor chips, cracks, or gaps in your smile can be corrected with tooth-colored composite resin during a dental bonding procedure. This minimally invasive and reversible treatment conceals imperfections quickly and effectively, yet still provides an enduring natural look.
Dental Crowns
Our porcelain crowns are a versatile restoration that can be used to treat a variety of imperfections. They may be placed directly over the top of damaged or decayed teeth to help fortify the tooth's structure, and restore size, shape, and strength. Additionally, crowns may be utilized in conjunction with more extensive procedures, such as dental bridges and dental implants.
Gum Contouring
If you suffer from a "gummy smile" or an uneven gum line, we can gently remove excess tissue and sculpt the gums to create a beautiful frame for your smile.
Smile Makeover
Through a series of combined cosmetic procedures, we can help you achieve the ultimate smile with a complete smile makeover. This treatment may combine teeth whitening, dental bonding, Invisalign®, and more. For more complex cases, we may recommend restorative procedures such as dental implants.
Enhance Your Smile Today
If you have spent years wishing for a more beautiful, eye-catching smile, now is the time to contact our office. Dr. Crawford and Dr. Leishman, along with our friendly staff, will listen to all of your concerns and goals, and guide you through the steps necessary to achieve the smile of your dreams.
Contact a Cosmetic Dentist in Utah